Photodynamic Therapy (PDT)
---
Photodynamic therapy (PDT) is an effective method for the treatment of cancer, dermatological conditions, and bacterial infections. Unlike chemotherapy, PDT does not compromise the immune function; on the contrary, an immunizing effect is observed following the application of this technique. Consequently, PDT can be used for immunosuppressed patients as well.
The patient is administered a photosensitizing drug intravenously or directly into the tumor. The photosensitizer binds to the pathologically altered tissue with high specificity. After a specific period of time, light is applied, either intravenously or externally, using laser light at the appropriate wavelength. This light is absorbed by the marked cells, leading to the production of reactive oxygen species that will destroy cancer cells through apoptosis, necrosis, or alteration of tumor vascularization.
The following photosensitizers
are currently used
(orally or through infusion)
Riboflavin
Hypericin
Chlorin E6
Indocyanine green
Curcumin
Recommendations
Tumorous diseases
Viral diseases (hepatitis, HIV, herpes, etc.)
Bacterial infections
Chronic Lyme disease
Multi-resistant staphylococci
Parasitic diseases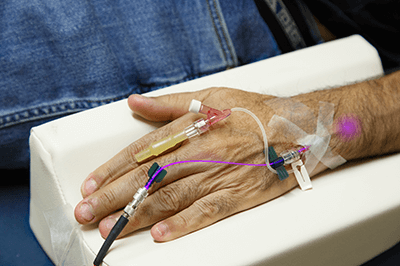 Systemic laser treatment with the Weberneedle® IV catheter (Y-type) after intravenous administration of curcumin
Infusion and
laser light
are given
through the
same cannula
Is recommended for bacterial infections, chronic Lyme disease, and multi-resistant staphylococci.
Interstitial photodynamic therapy for breast cancer using Weberneedle® Endo laser
Involves the practical application of interstitial therapy with infrared laser light (100 mW, 810 nm) after the administration of liposomal indocyanine green as a photosensitizer.
External photodynamic treatment of squamous cell carcinoma of the tongue and lymph node metastases using the compact Weberneedle® laser
Laser modules and
photosensitizers.


Indocyanine green (ICG) absorbs light of the infrared spectrum.

Chlorin E6 is combined with the red laser.

The 447nm blue laser can be used as a photosensitizer in combination with riboflavin or curcumin.

Hypericin which is derived from St John's Wort is the strongest natural photosensitizer and absorbs yellow light (590nm).

Ultraviolet light deactivates pathogens and stimulates the immune system.
Crafting Excellence in Healthcare:

Low-Level

Laser Therapies at

ImunoMedica Clinic
---